The Vaporesso Nexus is the best all-in-one device from the renowned vape manufacturer. It has been designed for both beginners and experienced vapers alike, with a simple one-button operation and a range of features and settings to play with. So, how does the Nexus stack up against other AIOs on the market? In this review, we will take a closer look at its features and find out.
---
Vaporesso Nexus Review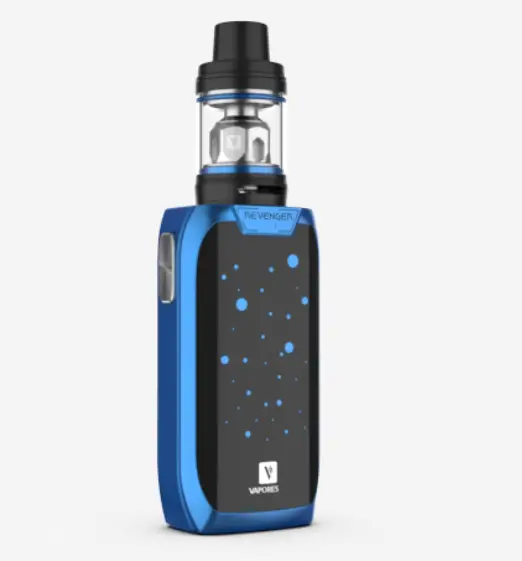 The Vaporesso Nexus AIO Ultra Portable Kit is a creatively built all-in-one hardware kit in the market, integrating the OMNI Board with 650mAh rechargeable battery and utilizing the NX CCELL Coil with ceramic integration.
---
Manual for Vaporesso Nexus Review
Having trouble? Download PDF instructions for Vaporesso Sky Solo Plus.
---
---
First Impression
The very first thing that struck me about the Vaporesso Nexus was its sleek and elegant design. The device is made of high-quality materials, and it feels great in the hand. The device is also very user-friendly, and the controls are easy to understand and use.
I also noticed that the Vaporesso Nexus has a very good build quality. The device is solid and well-built, and it feels like it will last for a long time.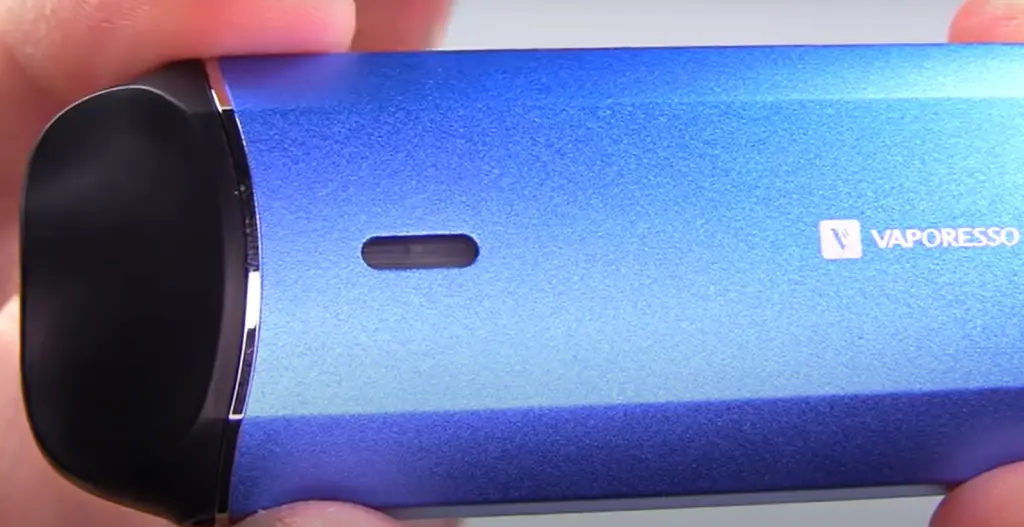 The Vaporesso Nexus comes with two coils, one for mouth-to-lung (MTL) vaping and one for direct-lung (DL) vaping. I started with the MTL coil, and it worked great. The flavor was rich and smooth, and the vapor production was impressive.
The DL coil also worked well, but I found that the flavor wasn't as intense as with the MTL coil. The vapor production was still good, though.
Key Features of Vaporesso Nexus
Now that we've gone over the basics of the Vaporesso Nexus, let's take a closer look at its key features.
Specifications
The very first aspect to discuss when it comes to the Vaporesso Nexus is, of course, its specifications. And in this department, the device doesn't disappoint.
It features a built-in 650mAh battery, which is more than enough to get most vapers through a day of use. The device also has a maximum wattage output of 12.5 W and a minimum one of 9 w.
The Vaporesso Nexus is a very simple device, but it still has all the necessary features that most vapers look for in a vape device.
The device also features adjustable airflow, so you can customize your vaping experience to your liking.
It is designed for use with PG e-liquids, but it can also be used with VG e-liquids as well.
The Vaporesso Nexus also features a LED light that indicates when the battery is running low. For example, when the light is green, it means that the battery is fully charged.
When the light turns red, it means that the battery is running low and needs to be recharged.
The device is charged via a micro USB port, and it takes about forty minutes to fully charge the battery. The charger comes included with the device.
Performance
The next important thing to consider is performance. It should always be taken into account because, in the end, it is the whole point of using a device like this. The Vaporesso Nexus did not disappoint in this category.
It produces good vapor production and flavor.
The coils that come with the device are also very good and last for a decent amount of time.
The only thing that I would say is that the battery life could be better. I was only able to get around 200 puffs out of it before needing to recharge, which is not terrible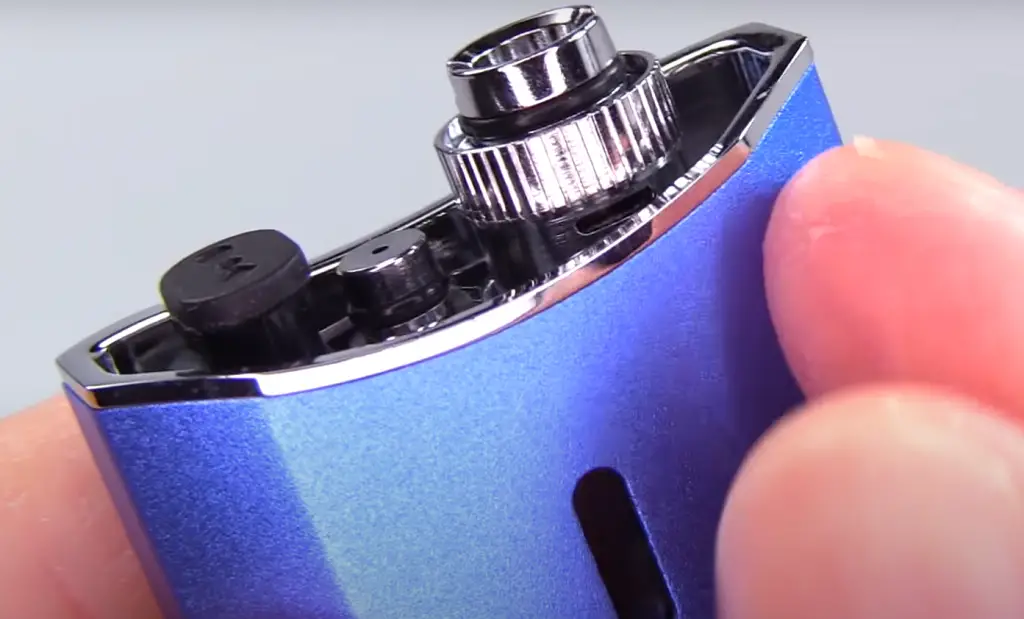 I have been vaping on the Vaporesso Nexus for a few weeks now and I have to say that I am really enjoying it. I tried it with a few different coil builds and it performed well with all of them. Moreover, it is a very user-friendly device.
I am not sure what else to say about the Vaporesso Nexus. It is a great little device that I would likely recommend to anyone looking for a good, user-friendly vape pen.
Build Quality and Design
Another essential aspect of any pod device is built quality and design. It should always be considered because a pod device is a long-term investment, and you don't want to end up with something that will break easily.
The Vaporesso Nexus has a zinc-alloy chassis which gives it a solid feel. The device is also quite small, making it perfect for on-the-go vaping.
The design of the Vaporesso Nexus is also quite sleek. The device has a smooth, curved shape which makes it comfortable to hold. The pod sits flush with the device, and the airflow adjustment dial is located on the bottom of the device.
The construction and design of the Vaporesso Nexus are both top-notch, and it's one of the best-looking pod devices on the market.
However, the fill plug is a bit flimsy, and I've had it come off a few times when trying to refill the pod. [2]
One more thing that I want to mention is that the button can be a bit small for some people. I have small hands, and I had no issues with the button, but people with large hands might find it a bit difficult to press.
The tank is built-in and it might be a problem during cleaning and maintenance.
So there are some downsides, but they are not critical and do not affect the quality of vaping.
Safety Features
One more thing I want to touch on is the safety features included with the Vaporesso Nexus. As I mentioned before, this mod uses a built-in battery, so it's important to have some good safety features to protect you in case of any issues.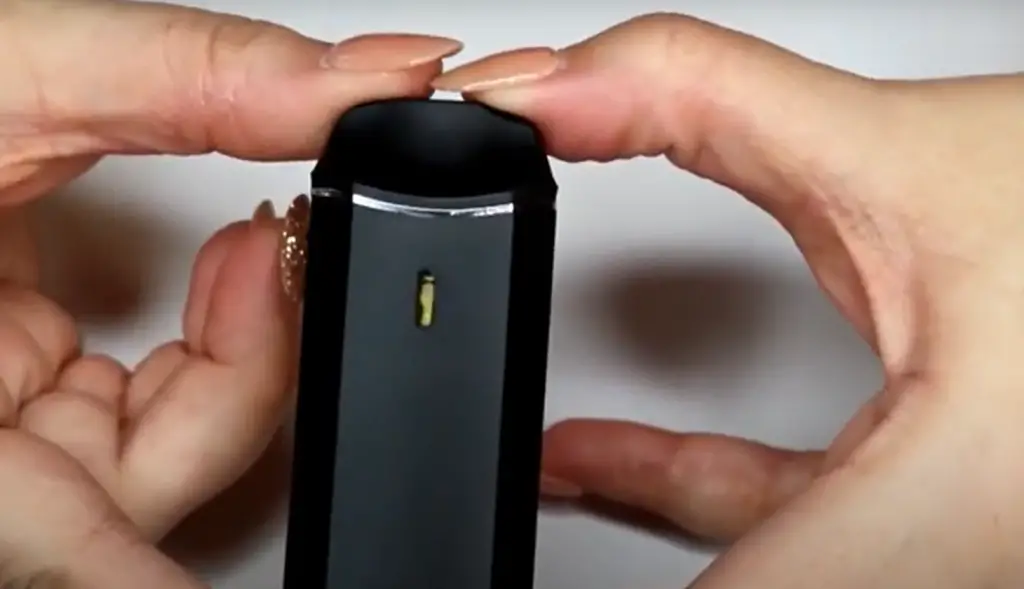 The Nexus has such safety features: [1]
Short-circuit protection – It is designed to protect your device and battery from short-circuiting. If a short-circuit is detected, the device will automatically shut off.
Overheat protection – This feature protects your device from overheating. If the internal temperature of the device gets too high, it will automatically shut off.
Overtime protection – This means that the Nexus will shut off if it is turned on for too long. This is to prevent any damage from being done to the device or battery.
Overcharge protection – This type of protection is designed to keep your battery from being overcharged. If the Nexus is charged for too long, it will automatically shut off.
Low liquid detection – This is a safety feature that protects Nexus from being used with low liquid levels. If the liquid level in the tank is too low, the Nexus will automatically shut off.
Auto temperature control – The Nexus has an auto temperature control feature that keeps the device from getting too hot.
These are just some of the safety features. As you can see, this mod is packed with features that are designed to keep you safe while you're using it. So, if you're looking for a safe and reliable mode, the Nexus is a great option.
Size and Weight
Another essential aspect of any pod system is portability because, after all, you are going to be carrying this thing around with you everywhere you go. If it is too big or too heavy, it will become a burden. The Vaporesso Nexus is a very compact and lightweight device, making it the perfect on-the-go pod system. It is so small that it can easily fit into your pocket or purse without adding any extra bulk or weight. The Vaporesso Nexus definitely doesn't disappoint in this department.
The Vaporesso Nexus has a built-in battery that is 650mAh, which is a pretty good size for a pod system. It should be enough to get you through a day of moderate vaping without needing to be recharged.
The measurements of the Vaporesso Nexus are:
Height: 8.5 cm (3.3″)
Width: 3.4 cm (1.3″)
Depth: 1.7cm (0.7″)
The Vaporesso Nexus is also incredibly light, weighing in at only 119 grams without a pod or cartridge installed. This makes it one of the most portable pod systems on the market today.
Such a small size is good because it means that the Vaporesso Nexus can be easily carried around in your pocket or purse without being too bulky or heavy. It also makes the device less conspicuous when you are using it in public.
However, some vapers prefer larger devices because they feel like they get a better vaping experience from them. If you are someone who prefers a larger device, then the Vaporesso Nexus might not be for you.
So, if you're looking for a small and light pod system that you can take with you anywhere, the Vaporesso Nexus is definitely worth checking out.
Value for Money
Last but not least, value for money is also worth considering when purchasing any product and the Vaporesso Nexus is no exception.
In general, pod systems tend to be more expensive than traditional e-cigarettes but this doesn't mean that you have to break the bank to get your hands on a good one. The Vaporesso Nexus is very reasonably priced considering all of its features and benefits and is definitely worth checking out if you're in the market for a new pod system.
The Vaporesso Nexus is an excellent starter kit for those looking for great value for money. It's a simple yet reliable device that comes with everything you need to start vaping. The kit includes the Nexus kit, two coils, a USB cable, and a user manual.
It costs about 25-30 dollars, which is a great price considering all that you get.
The Vaporesso Nexus is a great choice for those looking for an affordable and reliable pod system. With all its features and sleek design, it is one of the best pod systems on the market.
If you are still not sure, go ahead and check out some Vaporesso Nexus reviews online to see what others have to say about this great starter kit!
Care and Maintenance
The Nexus is a very low-maintenance device. The only thing you really need to do on a regular basis is clean the drip tip and keep the connector clean. Other than that, just charge it when the battery gets low and you're good to go.
As for actually cleaning the device, I would recommend taking it apart and wiping down all of the pieces with a damp cloth. The Nexus is very easy to take apart and put back together, so this shouldn't be too much of a hassle.
In addition, I would also recommend using a cotton swab and some rubbing alcohol to clean the inside of the drip tip. This will help to keep it from getting clogged up over time.
How often you need to do this will depend on how often you use the device. If you're using it every day, then I would recommend cleaning it once a week. However, if you only use it occasionally, then you can probably get away with cleaning it once a month or so.
Either way, the Nexus is a very easy device to take care of and you shouldn't have any issues with it as long as you keep it clean.
---
FAQ
How long do Vaporesso pods last?
Vaporesso pods are designed to last up to two weeks with regular use. However, your mileage may vary depending on how often you use your device and the type of e-liquid you fill your pod with.
Why does my Vaporesso nexus keep blinking red?
There are a few reasons why your Vaporesso nexus might be blinking red. The most common reason is that the battery needs to be recharged. If the problem persists, contact Vaporesso customer service for assistance.
How do I know when my Vaporesso pod is empty?
When your Vaporesso pod is empty, the LED light on the device will blink red. You can also check the liquid level window on the side of the pod to see how much e-liquid is remaining.
How do you add juice to Vaporesso?
Adding juice to your Vaporesso pod is easy! Just remove the mouthpiece, unscrew the cap on the side of the pod, and fill the tank with your favorite e-liquid. Then screw the cap back on and replace the mouthpiece.
I can't get my Vaporesso nexus to turn on. What should I do?
If your Vaporesso nexus won't turn on, the first thing you should do is check the battery. If the battery is fully charged, then the problem may be with the device itself.
Related Video: Vaporesso Nexus AIO Kit 650mAh Review
Final Thoughts
The Vaporesso Nexus is a great little starter kit for those looking to get into vaping. It's simple to use and comes with everything you need to start vaping, including the battery. The only downside is that it doesn't have a lot of features or adjustable settings. However, if you're just starting out, this won't be a problem. Overall, the Vaporesso Nexus is a great starter kit, and would recommend it to anyone looking to start vaping.
If you're looking for a more advanced vaporizer, check out our reviews of the best vaporizers on the market.
I hope this Vaporesso Nexus Review was helpful. If you have any questions, feel free to leave a comment below. Thanks for reading!
Happy vaping!
---
References:
https://vapingdaily.com/all-in-one-vapes/vaporesso-nexus/
https://vaping360.com/reviews/vaporesso-nexus-review/