---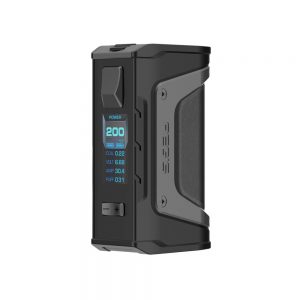 The GeekVape Aegis Legend is a high-performance, durable vape. The first thing you notice when you get this device in your hands is how heavy it feels. This device has an incredibly solid build quality and the weight of the mod really adds to that impression.


It's not too heavy, but it does feel like a tank! The Aegis Legend features a large, vibrant display that can be used in either portrait or landscape orientation. The mod is powered by two 18650 batteries which are included when you purchase this device. It has all the necessary protections built-in and it goes up to 220 watts!
This vape doesn't have any extra bells and whist, but it's a solid device for those who want something dependable that will last.
The Aegis Legend is a fantastic high-wattage mod that feels really sturdy in your hand. For the price, we feel like it's an excellent option and would recommend giving this one a try if you're looking for something with more power than say, 60 watts or less. The design of the body makes it easy to grip and hold on to when vaping too – even better with its rubberized finish! It has several features like a locking mechanism for atomizer resistance so changing coils is quick and painless; however, there are no firing/adjustment buttons on all four sides which could be frustrating because they don't work smoothly either.
GeekVape Aegis Legend Specifications
Dimensions: 90.5mm x 58.5mm x 30.6mm
Wattage Range: 100W – 220W
Resistance Ranges
0.05Ω to ~300 Ω for TC Mode (SS, Ti, Ni) and 0.15Ω to ~600 Ω for Power Mode (VW) in standard mode
200'F~ 600'F / 100″C~ 300″C or 212°F~ 600°F in Curves Mode
Maximum Output Current: 50A Continuous/100A Peak
Battery Cell High Drain 18650 Battery(s): Samsung 25r18650 INR18650 20700 battery is not supported on this
510 threaded connection; compatibility with all major atomizers
Reverse polarity protection, overheat protection, low voltage warning, and battery level display
First impressions
The GeekVape Aegis Legend is a fantastic device for those looking for an affordable mech mod that will last. Though it doesn't have any extra bells and whistles like some other vape devices on the market today, this one does what it's meant to do without issue: provide long-lasting vaping sessions every time! The design of this box-type vaporizer looks great in the black or silver finish because the lines are so clean and smooth. It feels solid in your hand due to its metal construction which also means there isn't a whole lot of weight added to something you're already holding.
The GeekVape Aegis Legend is a beautiful, well-built mod with lots of features. There are no visible screws and the whole thing feels really nice in your hand. It has been designed to be rugged from head to toe so it should survive some falls or knocks without any issues.
Pros and Cons of GeekVape Aegis Legend
Pros
Rugged design that will keep this device safe if you accidentally drop it; protection against short circuits, overheat and low battery voltage warnings means there's less chance for something bad happening when vaping at high wattage levels because you're always aware before anything gets too out of control
Feels really sturdy in your hand
Easy to use with lots of features like the locking mechanism for atomizer resistance
Cons
Not much room left on the side buttons to hold it securely while you're trying to vape or adjust settings which can be frustrating. This is one area where more button coverage would have been nice (or some other way of keeping them secure) – especially because they don't work that smoothly either. It's not an issue if you mainly just want juice vaping but could get annoying when using TC modes as well.
---
Manual for GeekVape Aegis Legend
Having trouble? Download PDF instructions for GeekVape Aegis Legend.


---
How to Use GeekVape Aegis Legend?
The Aegis Legend has a locking mechanism for atomizer resistance. In order to lock the resistance, turn the adjustment ring clockwise until you hear an audible click. To unlock it and change your settings, rotate this same dial counterclockwise while pressing down on the top button located at the base of the mouthpiece. The locking mechanism can only be unlocked by turning the Adjustment Ring in a clockwise direction (which is not how most other mods with similar features work). This feature helps prevent accidental changes to any vaping mode that might result from bumping or handling during use.
If you want to use Aegis Legend with a different atomizer, such as one with a .25 ohm resistance coil, for example, you will need to use the locking mechanism. To do this, simply hold down the adjustment ring while turning it counterclockwise until you hear an audible click and then release your grip on the ring.
This is how most mods are designed so that there's no confusion about any vaping modes when swapping out coils or tanks. This also ensures that people don't accidentally change their settings by bumping into them during use or handling of the device carelessly.
Aegis Legend features 510 threading which can accommodate most popular vape devices like RDA's and external box mods without needing adapters or extra equipment in order to be used If you have a battery that does not fit into the Aegis Legend and, instead, has an inset button for activation (i.e., 18650 batteries with fire buttons), it is possible to force these types of batteries in by removing the locking mechanism first as mentioned previously.
Finally, if your goal is more safety-oriented than performance-based then GeekVape's newest device might be perfect for you! It also offers protection from accidental firing while being charged or carrying around because of its magnetic switch which disengages when either event occurs. The only downside I found was that this mod doesn't come with any sort of user manual so there are some things users will need to figure out on their own but otherwise it seems like a solid device and I can't wait to see what GeekVape comes out with next!
Power Mode Performance
The Aegis Legend functions in a similar way to the other two devices we've seen today. The firing button is located on the side of the device, so it's not really an issue with accidental presses and feels natural when using. Pushing through power mode performance tests I let my coil heat up for about three minutes before hitting it with wattage ramping at 180 watts starting from 15 and going all the way to 200 quickly but then slowing back down as well. This mod managed to give me some great vapor production considering there was no airflow control whatsoever, which surprised me a little bit because this type of vape usually doesn't produce nearly as much flavor or vapor without that option available!
Temperature Control Mode Performance
I vaped on the GeekVape Aegis Legend in TC mode and found that it did a really good job of maintaining my coil at 400 degrees Fahrenheit.
The biggest performance issue is battery life, which isn't amazing. Having to recharge this beauty after just two or three hours can become tedious if you're out all day vaping, but luckily there's an included micro-USB cable for charging right from your computer or laptop so portability won't be too much of an issue.
Speaking about aesthetics… well let me put it this way: If looks mattered most when looking into new vape mods then chances are I would have been done after seeing how beautiful the GeekVape Aegis Legend was.
FAQ
Which is better Aegis Solo or Aegis Legend?
The Aegis Legend is a more powerful and higher quality vape mod compared to the Solo. It's also heavier, but it has better battery life. The GeekVape Aegis Legend Kit includes two coils (one .25 ohm coil for use at lower wattages; one 0.15ohm coil for subohming), USB cable, microfiber cloth, silicone sleeve band, spare parts baggie, user manual guide booklet, and a hard carrying case which protects the device all around on its inside as well as outside so that accidents can't happen while you're out in public places or traveling from point A to Point B!
How long do aegis legend coils last?
The coils that come with the Aegis Legend are durable and long-lasting.
What is GeekVape's coil policy for Aegis Legend?
Coils must be purchased separately from the device but can also be bought in bulk packs of five, ten, or twenty so you always have enough on hand when needed. You should change your coils about every four to six weeks if you're vaping heavily throughout each day. It's not recommended by most vapers to vape at higher wattages (over 150 watts) because it will shorten the lifespan of your coil which means more money out-of-pocket for new ones once they break down.
Which is the best Aegis vape?
The best Aegis vape is the Aegis Legend because it has an excellent build quality and a good battery to last all day. It also comes with three different airflow options for MTL, DL, and Drip-style vaping which will let you find what's most comfortable for your flavor palate. Lastly, the device's coils stay clean longer than any other product on the market so you don't have to worry about cleaning them as often or at all!
Related Video: Aegis Legend by Geek Vape! – Very Durable But Not Indestructible
Conclusion
The Aegis Legend mod from Geekvape is a really good choice for vapers who want something bigger but not excessively. It still has the features of previous mods like fast charging, easy user interface (with its big buttons), and protection against accidental firing while being charged or carrying around thanks to its magnetic switch which disengages when either event occurs. The only downside I found was that this mod doesn't come with any sort of user manual so there are some things users will need to figure out on their own but otherwise it seems like a solid device.
We hope this GeekVape Aegis Legend review has helped you know what vaporizers are out there!
---