Tell me, please, have you already ceased to be surprised by the fact that before you brush your teeth, you first need to check if your toothbrush is charged? As for me, I'm already used to it, but if we talk about smoking, sometimes I feel a little uneasy when I recall that it is somehow indecent to smoke cigarettes (electronic, of course!) with outdated software.
In general, if it is relevant for you to keep pace with the times, and if the Geekvape Aegis Legend is your companion, then it is perfectly easy to maintain its leading position in the first line of the technological front. The main thing is not to confuse the sequence of actions when checking for new firmware and updating it.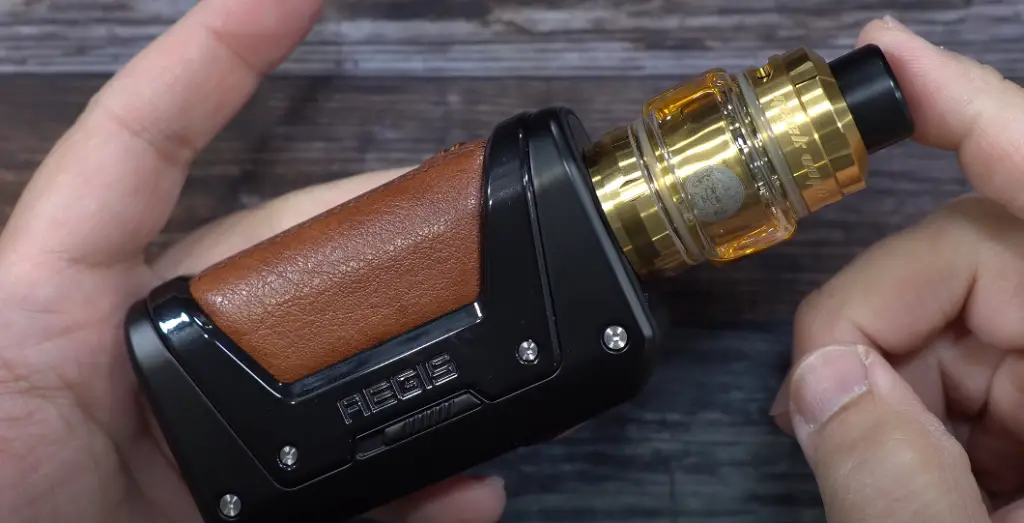 Just follow our instructions carefully, and the whole operation will take you no more than five minutes.
Perhaps you do not deal with zipped files too often. On Android and iOS, such files are not used, and computers and desktops are gradually going out of fashion. It seems that soon Windows-based hardware will turn into tools for updating firmware on electronic cigarettes, and even then – just while they, following toothbrushes, will not learn to do it themselves.
Until that happens, keep in mind that you will need a Windows computer, a USB cable, and nothing else. Windows unpacks zip files without any additional tools.
Now do as I do, do with me, do better than me. Ready. Steady. Go!
Follow me step-by-step
Open the battery compartment of your Geekvape Aegis Legend and remove the batteries.
Disconnect the atomizer.
Open the cover of the USB port on your device. Press the "+" button and while holding it, insert the cable into the Geekvape Aegis Legend and connect it to your computer.
Only after both ends of the cable are connected you may release the button.
Open your browser and go to https://www.geekvape.com.
Take a look at your driver's license and make sure that you are indeed 21 years old and are eligible to visit this adult site. If you are under this age, ask an adult to press the "21+" button. If your dad, mom, or older brother is not at home, you can use a VPN so that no one knows that it was you who broke the law by lying online about your actual age.
Find a section on this site called Firmware updates, and in that section, a page titled "Aegis Legend 200w Firmware Update Section".
Scroll down the page until you see a table with information about the latest firmware version for your device.
In the second column from the left, called Firmware, click on the Download link.
Open the folder where you downloaded the update archive.
As I said, you do not need any additional programs Windows can handle zip archives without any extra help. Unzip the downloaded file.
You have received a folder with three files with the extensions *.bin, *.txt, and *.exe. You need the *.exe one, that is, executable.
Double click on it with your mouse or press Enter on your keyboard.
An orange and black GeekVape Tool window will appear on the screen. Click on the "Start" button or just press Enter again.
Have you heard this great truth of the computer age: "A person can endlessly look at three things: a burning fire, flowing water and a loading indicator on a computer"? Do not deny yourself the pleasure, and enjoy the spectacle of the green stripe moving from left to right.
Once the download indicator has reached the end, it means that the firmware update on your Geekvape Aegis Legend has been completed successfully. Agree that you read this text longer than all these manipulations took. I told you it won't take long.
Now you can restore the status quo. No additional tweaks are required to disconnect your refreshed Geekvape Aegis Legend from your computer. This time, you don't need to pinch any buttons. Just disconnect the USB cable.
Reinsert the batteries.
Press the "+" and "-" buttons simultaneously to check the firmware version currently installed on your Geekvape Aegis Legend.
The screen will turn on, and a number will light upon it.
Check it against the table on the "Aegis Legend 200w Firmware Update Section" page. Does everything match? We had no doubts. You have updated the firmware of your device. Now you can repeat this operation even with your eyes closed. Most importantly, do not forget to hold down the "+" button before connecting the cable to the Geekvape Aegis Legend and to the computer.
Whichever of the above paths to hard reset you choose, it, one way or another, will lead you to the desired result, since each piece of advice given here has been tested in practice.
---